Edgewood Tahoe Golf Club, 100 Lake Pkwy, Stateline, NV
This George Fazio designed course has been rated by Golf Digest as one of 'America's Top Courses'.  It is host annually to the American Celebrity Golf Championship, an event which features celebrities such as Michael Jordan, Mario Lemieux, Don Cheadle, Ray Romano and many others. Edgewood is a challenging course with four sets of tees, stretching from 5567 to 7555 yards. The test of golf here is fair but demanding: player discipline can be compromised by the stunning beauty of it's lakeside layout. $$$$
Seasonal thru October (weather permitting)

Lake Tahoe Golf Course,2500 Emerald Bay Rd, South Lake Tahoe, CA
Located in a mountain meadow just minutes from the shores of Lake Tahoe, this William Bell championship layout raises the bar on public play with breathtaking views, attentive customer service and a long list of amenities. LTGC stretches from 5703 to 6741 yards, meandering over this river valley with abundant wildlife, lush foliage and thought provoking golf challenges. The course is a golf value for both locals and visitors enjoying the Tahoe basin $$-$$$
Seasonal thru October (weather permitting)

Wolf Run Golf Club, 1400 Wolf Run Rd, Reno, NV
This well-manicured Southwest Reno golf course plays host to many local golfers each year. It's scottish links-style par 72 layout offers 4 sets of tees, ranging in length from 5133 to 7100 yards with ratings from 67.3 to 74.1 and slopes from 122 to 135. Course design integrates creative use of terrain and natural flora for a unique playing experience.  Convenient to Reno and north Carson City, Wolf Run offers a good value and quality player experience – from playing 18 to enjoying the warm atmosphere of the Wolf Run Grill. $$

Old Greenwood GC, 12915 Fairway Dr, Truckee, CA
Rated among the 10 Best New Public-Access Courses in the USA by Golf Magazine, this beautiful Jack Nicklaus Signature designed course is a pleasure for players of all skill levels.  Located in Truckee near North Lake Tahoe, this layout meanders over 600 acres of picturesque, towering pines overseen with brilliant blue skies. Course length extends from 5419 to 7518 yards, four sets of tees with ratings from 69.8 to 75.2 and slope from 128 to 140. Spectacular views and clubhouse design complete the total experience at Old Greenwood. $$$
Seasonal thru October (weather permitting)

The Golf Club at Gray's Crossing, 11406 Henness Rd, Truckee, CA
Sister course to Old Greenwood, Gray's Crossing is a Peter Jacobsen/Jim Hardy design stretching to 7466 yards of golf beauty rated from 69.5 to 74.7 with slopes from 128 to 143. Players experience the Jacobsen passion for fun but challenging risk/reward options, requiring creative club selection & thoughtful scoring strategy.  This pristine public course is surrounded by stunning scenery including lodgepole and jeffrey pines. Golfers relax with panoramic views of Mt Rose in PJ's Bar & Grill, named after the fun-loving Jacobsen himself. Gray's prides itself on being only the second Audubon International Gold Signature Sanctuary in California. $$$
Seasonal thru October (weather permitting)

The Dragon at Nakoma Golf Resort, 348 Bear Run, Clio, CA
There's been a lot of buzz about just how tough this Dragon beauty can be. Since it's 2007 renovation and ownership change the course has been modified to increase playability, still ranging through 5 sets of tees from 4833 to 7015 yards. Views and ambiance at the Dragon are unparalleled as the course winds around the Frank Lloyd Wright designed Nakoma clubhouse. The Dragon can breathe fire into your game with tricky greens, undulating fairways and tight placement shots. $$-$$$
Seasonal thru October (weather permitting)
Lakeridge Golf Course,1218 Golf Club Drive, Reno, NV
Voted 'Best of Reno' consistently since opening in 1969, Lakeridge GC is a Robert Trent Jones course located less than 5 miles from downtown Reno. Lakeridge has it all for a well-rounded golf challenge: beautiful but distracting views, strategically placed bunkers, mature trees over the fairways and water that frequently comes into play. Take good aim! Shot accuracy is crucial, especially on the 15th signature par-3 with tee box towering 140 feet above an island green.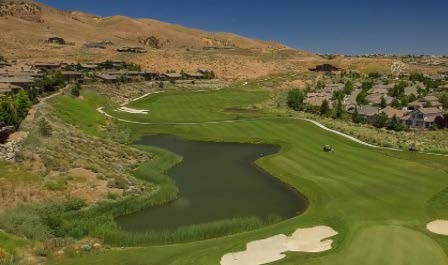 Somersett Country Club, 2019 Championship Trail, Reno, NV
Located in NW Reno, Somersett Golf & Country club is a private par-72 championship course stretching to 7,252 yards. Desgined by Tom Kite and Bechtol Russell Golf, this luxurious course is one of the best maintained courses in northern Nevada. Scenic and challenging, it's definitley worth teeing it up – and welcomes group play on select days.