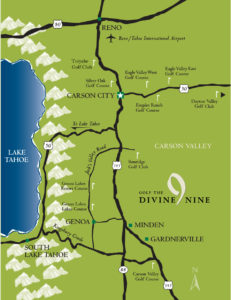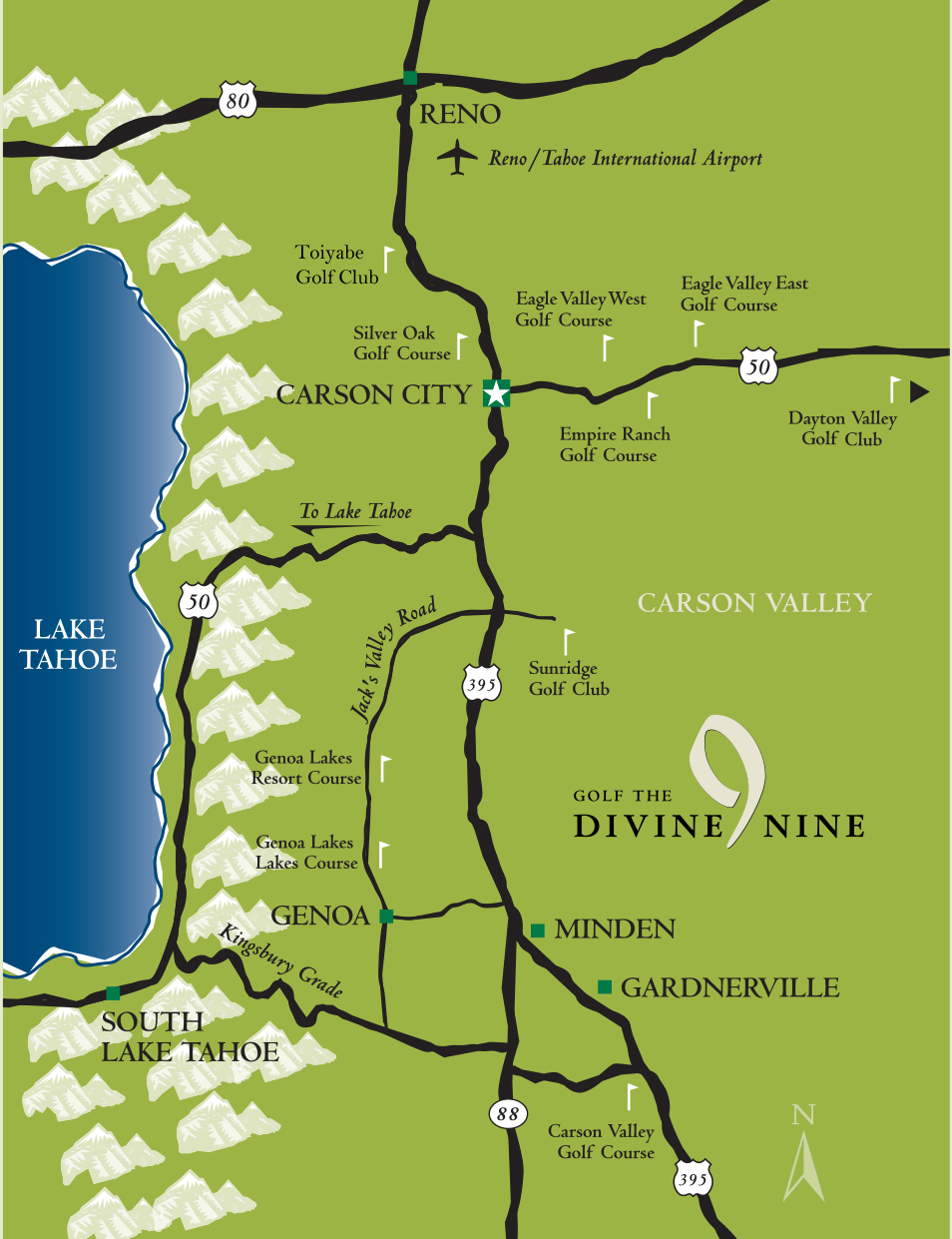 The Carson Golf trail is a unique golfing experience at the base of the Sierra Nevada mountains.  Comprised of ten uniquely challenging golf courses, it's where beauty and fun intersect.  Challenge yourself to complete the trail and play a round on each of the courses in the same year!
Carson Golf Trail Distances Between Courses
Click on the mileage number for Google Maps driving directions.
|   | Carson Valley Golf Course | Dayton Valley Golf Club | Eagle Valley – East Course | Eagle Valley – West Course | Empire Ranch | Genoa Lakes Golf Course — Lakes Course | Genoa Lakes Golf Course — Ranch Course | Silver Oak Golf & Event Center | Sunridge Golf Club | Toiyable Golf Club |
| --- | --- | --- | --- | --- | --- | --- | --- | --- | --- | --- |
| Carson Valley Golf Course |  0 | 34 | 24 | 24 | 22 | 14 | 15 | 22 | 14 | 29 |
| Dayton Valley Golf Club |  34 | 0 | 12 | 12 | 13 | 27 | 25 | 17 | 21 | 21 |
| Eagle Valley — East Course | 24  | 12 | 0 | 0 | 2 | 16 | 14 | 5 | 11 | 10 |
| Eagle Valley — West Course | 24  | 12 | 0 | 0 | 2 | 16 | 14 | 5 | 11 | 10 |
| Empire Ranch |  22 | 13 | 2 | 2 | 0 | 15 | 13 | 5 | 9 | 9 |
| Genoa Lakes Golf Course — Lakes Course |  14 | 27 | 16 | 16 | 15 | 0 | 2 | 15 | 10 | 22 |
| Genoa Lakes Golf Course — Ranch Course |  15 | 25 | 14 | 14 | 13 | 2 | 0 | 13 | 8 | 20 |
| Silver Oak Golf & Event Center |  22 | 17 | 5 | 5 | 5 | 15 | 13 | 0 | 9 | 6 |
| Sunridge Golf Club | 14  | 21 | 11 | 11 | 9 | 10 | 8 | 9 | 0 | 16 |
| Toiyable Golf Club | 29  | 21 | 10 | 10 | 9 | 22 | 20 | 6 | 16 | 0 |